The Making of a Serial Killer:
Pregnancies were a common occurrence in The Pleasure House, but babies were an extremely rare thing; a woman to fall pregnant in The House would either be dismissed from service, thrown into the streets to fend for herself and baby or they would be offered a termination; either way, the result of a pregnancy was never great - life would often result in death. However, this changed on one chilly Autumnal evening in October when Alana gave birth; she was an oddity, a woman not knowing she was pregnant until her waters broke - she showed no physical sign of pregnancy nor any psychological ones. Her case truly stunned their small town in the heart of Ireland. Due to this, The Master of the house, Quinn, took pity upon her and her child who was eventually named Ciara, and accepted the situation; after all, Alana was one of his best girls who he simply couldn't pass up. She brought a lot of the income in, and the men always rated her highly - to lose her would mean to lose the business.
Ciara was a fresh breeze of air in The Pleasure House, her giggles would echo around the halls when the house was closed to the general public; despite being hidden during the night time hours, she was still very much aware of the many men that would come and go from her Mother's room. Her childhood was not as bright as her giggles or the light which glistened within her blue orbs, once she was able to walk and talk, she would begin the chores that Quinn would set out for her; changing bedsheets and washing the many different items of clothing - or lack of. Due to this, her education was never a priority - after all, her future and career were planned the moment she appeared in the world. Quinn had only taught her to speak and listen so when she was of age, she would be able to communicate with the men that would visit her; therefore, reading and writing were out of the question. Despite only learning how to speak, one would be able to tell that Ciara had not had the best form of education - for she would come across at times, a little dumb but as she aged, she would blame her blonde hair colour.
Eventually, after years of waiting on Quinn's part - especially after the death of Alana, Ciara finally turned eighteen; he didn't even wait, the moment that the clock struck midnight on her birthday, Ciara began to work. The first man wandered in her room within seconds and that was how it remained for many years until she met a gentleman who went by the name of Dimitri. Ciara didn't know much about the man, besides the fact that he never entered one of the rooms to lay with a woman; he was more interested in joking with Quinn over food. The behaviour went on for weeks, maybe months and she found it extremely bizarre, until one night when Quinn approached her and told her of his plans to make Dimitri lay with her. At first she laughed, she couldn't see the man laying with her as he was more interested in the food that they provided rather than the sexual services, but nevertheless, it was what Quinn wanted and she would obey.
Each night, Ciara would welcome Dimitri into her room; his self control would bother her greatly - no matter what she did, or how she put herself on him he would soon escape her room, all red and flustered. In fact, she found it endearing when she wasn't turned on and therefore, frustrated herself. Quinn caught wind of what was happening and of Dimitri's refusal to lay with Ciara and he soon began to lock the bedroom door, leaving the two in her room for hours, unable to escape. Finally, Ciara broke Dimitri's stubbornness and the two began laying with each other every night; but it ended up being more than that. Dimitri would often take her out of the house during daylight hours simply to enjoy her company; since a young age, Quinn had always told Ciara never to fall in love with a client but this was the very first rule she broke. Spending so much time with Dimitri, she couldn't stop the fall - so much so, that Dimitri began to save up enough money to buy her freedom from The Pleasure House. Yet the dream ended as quickly as it began, it was on the night of her freedom that Ciara met her violent end. Unbeknown to her, her last client would be the one to end her life, he was forceful and unpleasant and no matter how many time Ciara told him to stop, he wouldn't. Her constant thrashing and muffled refusal annoyed him too much, angered him and disgusted him that a woman would behave that way towards a man - her superior, that he found his knife and repeatedly stabbed her in the stomach and chest until she bled out.
Darkness welcomed her, she remained in it's comforting embrace for many weeks until she began to choke on the air which now filled her lungs. She was enclosed, but with enough panic and force, she dug her way out of her cage to find that she was six foot under; her new bed, her new home was now the graveyard - but it was not her current location that confused her, it was the women that stood around her grave. One woman, welcomed her with open arms and fussed over her as if she was her own; yet the smile which lingered upon the woman's lips was more sinister than the warming embrace. The moment that Ciara was introduced to Hallows Hill Manor and had her new found species explained to her, she was once again locked in a room, The Scream Chamber they called it; restrained and alone - when it was quiet, it was eerily quiet but she would welcome that back any day the moment the screams began. Over the course of her torture, the screams attacked the fragile and broken mind, damaging it even more until The Matron made Ciara the Banshee she wanted - a serial killer to keep the Elders well fed. The Matron got what she wanted, a loyal daughter who killed for the fun of it - satisfying their need for traumatising and tragic death. .
FACECLAIM: MARGOT ROBBIE
GENDER: FEMALE
SPECIES: BANSHEE
SEXUALITY: HETEROSEXUAL
RELATIONSHIP: BENEATH HER DARKNESS SHE IS STILL IN LOVE WITH DIMITRI ESPERANZA-COLLETTE

AGE: APPEARS TO BE 29 YEARS OLD - IMMORTAL
HEIGHT: 5'5
WEIGHT: 56KG
HAIR: BLONDE
EYES: VIBRANT BLUE
OCCUPATION: SERIAL KILLER, ASSASIN, HITMAN
WEAPON OF CHOICE: HER SCREAM
NATIONALITY: IRISH
CIARA IS ONE THAT IS DIFFICULT TO DEFINE - SHE IS CONSTANTLY CHANGING, HER MOOD NEVER TRULY STICKING. IT CHANGES LIKE THE WIND. BEFORE DEATH, SHE WAS LOYAL, AND KIND - PROTECTIVE AND LOVING. SHE WAS LOVED BY ALL, HOWEVER, SINCE DEATH, DARKNESS CREPT IN AND RAN THROUGH HER BLOODSTREAM LIKE THE PLAGUE. SHE IS STILL VERY MUCH ALL OF THOSE THINGS ABOVE, HOWEVER, SHE IS NOW MANIPULATIVE, CRUEL, AND EXTREMELY VIOLENT. HER THIRST FOR DEATH ALWAYS NEEDS TO BE SATISFIED. HER PLAYFULNESS HAS ALSO BEEN EXAGERRATED SINCE HER REBIRTH - HER MIND PERMANENTLY DAMAGED. SHE TENDS TO GET BORED VERY QUICKLY, AND THUS NEEDS TO BE KEPT OCCUPIED ALWAYS . CIARA HAS NOT QUALMS WHEN IT COMES TO SPEAKING HER MIND, IT HAS BEEN SAID HER TONGUE IS AS SHARP AS HER SCREAM. 
THE GOOD: Loyal, Confident, Independent, Playful, Protective

THE BAD: Murderous, Violent, Damaged, Childlish, Emotionally and Mentally Unstable, Unpredictable, Manipulative
CIARA HAS QUITE A PETITE FRAME WHICH ALLOWS HER TO MOVE GRACEFULLY AND ALMOST FELINE LIKE. HER HAIR IS TYPICALLY BLONDE AND OFTEN MEETS HER BREASTS, HOWEVER, SHE IS KNOWN TO CUT IT SHOULDER LENGTH AS WELL AS DYING THE TIPS A VARIETY OF DIFFERENT COLOURS. DUE TO THE NATURE OF HER WORK, SHE CAN SOMETIMES BE FOUND TO BE WEARING A WIG SO THAT HER IDENTITY ISN'T COMPROMISED IF SHE IS CAUGHT. HER EYES ARE A SEA BLUE, HOWEVER, DUE TO HER SPECIES, THEY ARE HAUNTED WITH A GREY MIST - GIVING HER AN EERIE LOOK AS IF SHE CAN SEE INTO ONE'S SOUL. THIS IS THE FIRST THING ONE WILL NOTICE IN HER PRESENCE. UNDER THE PROTECTION OF HER CLOTHING, HER STOMACH AND TORSO ARE LITTERED WITH NUMEROUS OF SCARS WHERE SHE WAS STABBED, WHICH CONSEQUENTLY LEAD TO HER DEATH.

HER LOVE: DIMITRI ESPERANZA-COLLETE
BIOLOGICAL DAUGHTER: MADELINE ESPERANZA-COLLETE
MOTHER LIKE FIGURE: THE MATRON
THE SISTERHOOD OF THE BANSHEES. 
BIOLOGICAL MOTHER: ALANA DEVLIN 
FATHER FIGURE GROWING UP: QUINN FOLEY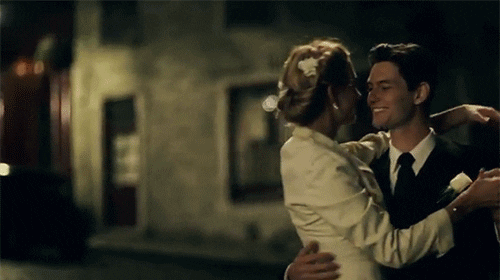 AT FIRST, CIARA SAW HIM AS NOTHING MORE THAN A WEIRDLING WHO WOULD VISIT THE PLEASURE HOUSE TO SATISFY ONE NEED - INNOCENT HUNGER. LITTLE DID SHE KNOW, AFTER BREAKING HIM IN, HE WOULD BECOME SO MUCH MORE TO HER - HE WAS NO LONGER HER CLIENT, HE HAD CAPTIVATED HER IN MORE WAYS THAN ONE. THEY ORGANISED HER FREEDOM, ONLY TO HAVE IT SNATCHED FROM THEM BY THE HANDS OF DEATH HIMSELF. YEARS LATER, DIMITRI FINALLY FOUND OUT THE TRUTH,  IS THEIR LOVE POWERFUL ENOUGH TO OVERCOME THE CHALLENGES WHICH COME WITH BEING A BANSHEE? CAN THE ANGEL OF HOPE TAME THE HARBRINGER OF DEATH?