-
"I do." King Mark said
"I do." Isolde said choking back tears as she stared blankly to the man in front of her that was wedding her to the King of Cornwall to unite Ireland and Cornwall as one. This was to be a joyous moment as she stood in front of the kingdom. She was marrying a good man after all. Yet in her mind she wanted Tristan's hand to appear and the pair run off together. She hadn't seen him since that stormy night after he told her he couldn't want her. It was wrong. 
She told herself nightly as she cried herself quietly in her bed that he was right they couldn't be together. She was to be married to his uncle. Though the potion that linked them made it hard as she dreamed of him nightly. She always wondered if he dreamed of her as well. Isolde snapped back into the moment of her wedding as they turned to face the crowd of people. Isolde forced a painful smile as her eyes scanned for Tristan. 
Nowhere to be seen. Maybe he just didn't want to see her. She thought to herself as the pair walked down and made their way to the ballroom of the castle where there was to be a huge party in their honor. She took a seat at their table and watched the room fill with music and people having a good time. Her eyes still searching for him till Mark leaned in calling her attention.
"My dear, I am so happy this day has come. You look beautiful. I cannot wait for later tonight when you grace my bed." His voice was a gentle whisper in her ear then a gentle kiss placed on her ear. As King Mark pulled back Isolde pressed that force smile to her lips again.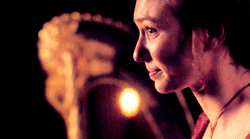 "If you excuse me I need to freshen up." Isolde said as she stood from the table and moved out of the ballroom. She walked down the hall, her hands shaking as she pressed them to her corset. When she was sure no one was around she found the closest empty room and started to breath raggedly. She had forgotten all about the wedding night, it was something she wasn't ready for… not with him.
She lowered herself to the ground, no longer able to stand as her hands came to her face, tears falling down her cheeks. All the tears she managed to hold in the whole time while the wedding was going on.