At the birth her name was Edith Anne Coastillon, she was born into the house of Coastillon, one of the most royal families to rule the lands now known as the United Kingdom. Shortly after birth, Edith began to show signs that she could wield great magic. This magic she carried scared her parents greatly as there seemed no way they could control it.
Her parents went looking for help but what they were met with was a Coven of Witches who had heard of Edith feeling she was the child that would fulfill a great prophecy. The witches took Edith that night and raised her as a member of their coven, thus she was named Clarice Lilith De Biville.
Clarice was trained in her magic from that day forth, she passed every task that was placed in front of her as if it was nothing. The older she got the stronger she got and soon she was the leader of the coven. With ups there comes downs though, the moment Clarice thought she could own the world she met a Sorcerer, a man skilled in magic that surpassed what the Witches could show her.
The Sorcerer went by the name Prospero, the moment he set eyes on Clarice he was obsessed with the power her body seems to hold. Clarice left her coven into the arms of this man who promised to show her the world of magic none like she ever known. For years she studied with him until the days she began to surpass his own skill causing Prospero to become jealous of Clarice.
Prospero was a very controlling man and the moment Clarice began to see that for herself, he locked her away binding her hands and gagging her to stop her from using her magic, while he found a way to keep her from using her magic. He created a set of bracelets that were laced with magic to keep her from using her own, ones she could not remove herself.
Placing them around her wrist they tighten and the x shape charm on them buried itself into her flesh. The moment the bracelets were placed on her wrist it was as if she became passive, she followed every word that Prospero gave. For years she was his slave until one of her old coven members came searching for her.
When Sapphire found her, Clarice was a shell of the woman she once knew. Ripping the bracelets away knowing they were a source of magic causing the x marks on her flesh to burn as her power was restored, but not without their side effects. Sapphire became ill for she was the one to remove the bracelets, but they were able to make their escape back to the coven.
Clarice watched Sapphire die slowly as black spread from her hands into her veins, Clarice tried every way to save her that she could think of but her efforts were fruitless. As they burned Sapphire's lifeless body Clarice looked down to the x marks on her wrists, it was the first time she had to face the death of someone close to her. It struck fear into her as that could have been her.
Clarice stayed close to the witches but far enough away from them so they could not be tied to her. She worked on many things through her lifetime but her greatest achievement was a potion for immortality. She created the immortality potion for just herself for she feared death more than anything, but taking the potion caused her to see visions of the future….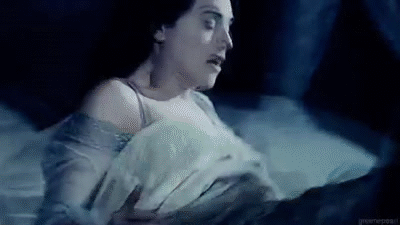 Clarice woke up that day jumping from the nightmares that were hunting. She sat up, looking around the small cabin she made herself not from the coven she had once led. She moved standing up pushing her hair off her wet forehead, The nightmares were getting stronger trying to get her to understand what was going to happen. Clarice still wasn't understanding her dreams though. 
Clarice walked towards the window when the smell of burning flesh caught her nose causing her stomach dropped she was sure it was Prospero coming for her once again. She stormed out of her home running through the thick trees the screams of her people filled her ears and she ran into the middle of the small town they had started seeing buildings burning her eyes turned orange as she called water to her beginning to put out the fires.